Marathon County Public Library
learning • community • ideas • information
---
---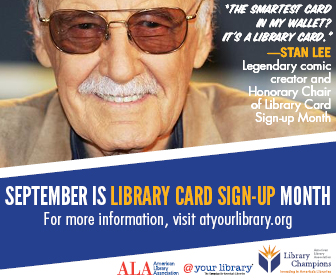 This September, libraries all across the country are reminding parents and children that a library card is the most important school supply, whether you are a child or an adult returning to school after a long absence. Legendary comic book creator Stan Lee is the face of the 2014-2015 national ...
---
Featured Online Resource
An online tool for home improvement assistance, including: maintenance, remodeling, electrical work, plumbing, wood projects, outdoor improvements, decorating home and garden, etc.
Home & Garden
Login Required
»
Adult Book ★★★★ Fans of silent cinema will enjoy this in-depth look at the films of Douglas Fairbanks, the swashbuckling hero from such silent classics as The Mark of Zorro and Robin Hood. While not for readers looking for a biographical account of Fairbanks's life and his marriage to Mary Pickford, this v ... olume is perfect for those who are more interested in a cinematic retrospective. The authors are very thorough with their presentation of the many films of Fairbanks's long career, revealing details and synopses of films lost forever due to deterioration or neglect.
Reviewed by Kathleen K.
Read more reviews at Goodreads.com.
---