Children's Book ★★★★★ This is one of the best picture books that I have read in a long time! Just as the title suggests, the book follows one recipe for Blackberry Fool through different centuries and families. The recipe is generally made the same in each family, however, the technology used and family preparing ... the recipe are vastly different. Historically this book shows everything from the role of women in the household, to slavery, to modernization, to finally, a father and son cooking together. Finely written with no judgment of right or wrong, the story is so wonderfully presented in both words and illustrations. It feels to me like a modern classic in the making. There are so many interesting conversations to be had with your little ones when reading this book! I know my daughter followed the story and enjoyed learning how things can change over time. She asked questions as we read and it lent itself to be a great teaching tool. Of course I would be remiss to mention that the book culminates in the actual recipe for Blackberry Fool so that you can give it a try yourself. I definitely recommend this book to all, young and old.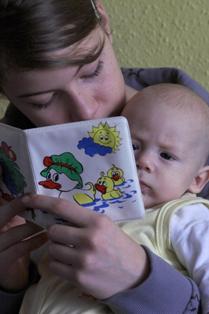 Beginning Monday, January 5, 2015, MCPL is taking a new approach to Book Babies Story time. Story time will begin at 10 a.m., and just like usual, provide 15 minutes of books, songs, and rhymes. But then, parents and babies are encouraged to hang out after and give babies a chance to do ...
---
Visit the Marathon County Public Library (MCPL) for access to thousands of children's books, magazines, videos, audio books, music and more! Plus, MCPL offers a variety of children's events including story times, arts and crafts, sing-alongs, summer reading program, hands-on learning, musical performances, puppet shows and more! MCPL children's activities are intended for children (pre-K–grade 5) and tweens (grades 3–5). Teen programming (grades 6-12) is offered via our TeenZone / Teen Services program.
---