Tween Book ★★★★★ Newbery award-winning author Patricia MacLachlan has done it again. She has written an easy-to-read story for children with sparse, well-chosen words and conversation that eloquently speaks volumes on what it means to be a family. Lucy is traveling with her mother, father, sister Gracie and h ... er little brother Teddy in a beat-up Volkswagen bus to her Aunt Frankie's house which she is told is "far out in the middle of the universe". They are planning to help her (even though she says she doesn't need help) during the rainy season when her house will be threatened with flooding. The story is simple, yet beautiful, but it is the interpersonal relationships in this family that truly make this book shine with a special kind of magic. Not to be missed.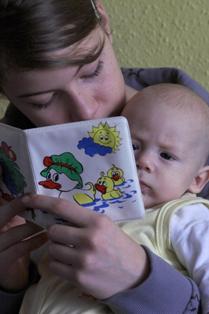 Beginning Monday, January 5, 2015, MCPL is taking a new approach to Book Babies Story time. Story time will begin at 10 a.m., and just like usual, provide 15 minutes of books, songs, and rhymes. But then, parents and babies are encouraged to hang out after and give babies a chance to do ...
---
Visit the Marathon County Public Library (MCPL) for access to thousands of children's books, magazines, videos, audio books, music and more! Plus, MCPL offers a variety of children's events including story times, arts and crafts, sing-alongs, summer reading program, hands-on learning, musical performances, puppet shows and more! MCPL children's activities are intended for children (pre-K–grade 5) and tweens (grades 3–5). Teen programming (grades 6-12) is offered via our TeenZone / Teen Services program.
---