Children's Book ★★★★★ "Whoa! Here I come! I am the Hug Machine!" starts this wonderful book about a little boy who hugs everything. He hugs people, animals, and even a fire hydrant and mailbox! He hugs hard things, soft things, square things and long things. But, can he hug a spiky porcupine or a humongous whale? ... The Hug Machine will do anything to give a hug. With simple and warm watercolor illustrations, this book shows how a simple act of kindness can change someone's mood and make them feel great. Recommended for children of all ages and their families.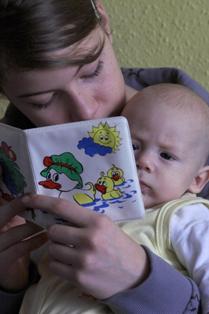 Beginning Monday, January 5, 2015, MCPL is taking a new approach to Book Babies Story time. Story time will begin at 10 a.m., and just like usual, provide 15 minutes of books, songs, and rhymes. But then, parents and babies are encouraged to hang out after and give babies a chance to do ...
---
Visit the Marathon County Public Library (MCPL) for access to thousands of children's books, magazines, videos, audio books, music and more! Plus, MCPL offers a variety of children's events including story times, arts and crafts, sing-alongs, summer reading program, hands-on learning, musical performances, puppet shows and more! MCPL children's activities are intended for children (pre-K–grade 5) and tweens (grades 3–5). Teen programming (grades 6-12) is offered via our TeenZone / Teen Services program.
---