Tween Book ★★★★ Lily and her busy stepfather are mourning the recent death of Lily's mother, leaving Lily with most of the responsibility for caring for her severely autistic 4-year-old stepbrother Adam. Through a visit to Dolphin Inlet, they discover Adam's affinity and seeming ability to communicate wi ... th dolphins and hear about a dolphin therapy program for disabled children. Her father, who is a doctor, is asked to examine a sick dolphin named Nori at the Bayside Oceanarium who quickly forms a bond with her brother. Lily knows that even though her brother appears to be benefitting from his attachment to Nori, when Nori recovers she needs to be released and returned to her ocean family. This is a heartwarming and realistic story of survival, hope, and the power of human-animal connections.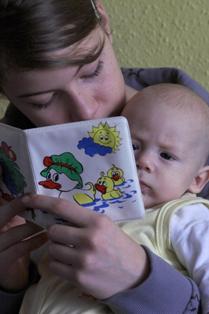 Beginning Monday, January 5, 2015, MCPL is taking a new approach to Book Babies Story time. Story time will begin at 10 a.m., and just like usual, provide 15 minutes of books, songs, and rhymes. But then, parents and babies are encouraged to hang out after and give babies a chance to do ...
---
Visit the Marathon County Public Library (MCPL) for access to thousands of children's books, magazines, videos, audio books, music and more! Plus, MCPL offers a variety of children's events including story times, arts and crafts, sing-alongs, summer reading program, hands-on learning, musical performances, puppet shows and more! MCPL children's activities are intended for children (pre-K–grade 5) and tweens (grades 3–5). Teen programming (grades 6-12) is offered via our TeenZone / Teen Services program.
---