Marathon County Public Library
---
Visit the Marathon County Public Library (MCPL) for access to thousands of children's books, magazines, videos, audio books, music and more! Plus, MCPL offers a variety of children's events including story times, arts and crafts, sing-alongs, summer reading program, hands-on learning, musical performances, puppet shows and more! MCPL children's programming is geared toward children (pre-K–grade 5) and tweens (grades 3–5). Teen programming (grades 6-12) is offered via our Teen Services / TeenZone program.
Staff Reviews
Children's Book ★★★★★ Weird insects will amaze anyone remotely interested in insects. The book provides a magnifying glass look at insects from around the world. Each page is filled with a stunning and vibrant photo against a white page. Each page also lists insects' common and scientific name as well as interes ... ting facts about the insects' characteristics and behavior. Budding naturalists will pore over the pictures and information. Insectaphobes beware.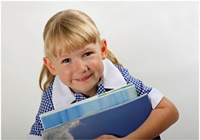 Summer is fast approaching, and as usual, there will be some changes to the regular story time schedules at most MCPL locations. Most branches will take a break from their story times to focus on Summer Library Program events. At MCPL Wausau, we'll be taking a break from story times in May to ...
---