Children's Book ★★★★★ This beautifully illustrated picture book portrays an ordinary stormy, rainy day in the country that looks wonderfully extraordinary. The scratchboard illustrations with added watercolor paint by 2009 Caldecott Medal winner, Beth Krommes, are the real stars here. With repetitive, spare, dream ... y words and illustrations we see a day unfolding--wash being hung on the line, fields being plowed, pigs rolling in the mud, loud thunder, drips dripping, umbrellas up, rain suddenly stopping and finally the sunshine. The two-page visual spreads are breath-taking, especially the final spread of a breaching whale "on a silver night." This is a magnificent picture book for sharing one-on-one with your preschooler or budding young artist.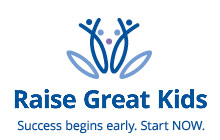 If you are a parent, guardian, grandparent, or child caregiver, we would like your input! Raisgreatkids.org is a local website put out by a collaborative effort of community partners under the Early Years Coalition. Marathon County Public Library is a member of this coalition, and we need your help ...
---
Visit the Marathon County Public Library (MCPL) for access to thousands of children's books, magazines, videos, audio books, music and more! Plus, MCPL offers a variety of children's events including story times, arts and crafts, sing-alongs, summer reading program, hands-on learning, musical performances, puppet shows and more! MCPL children's activities are intended for children (pre-K–grade 5) and tweens (grades 3–5). Teen programming (grades 6-12) is offered via our TeenZone / Teen Services program.
---