Tween Book ★★★★ Loosely based on the fairytale "Jack and the Beanstalk", the trouble begins when 13 year old Rudi is sent to market with Susanna to trade dairy products for meat and grain and possibly sell a cow. Susanna, in an effort to help him, sells one of his cows for some allegedly magic beans. It ... turns out that the beans were stolen from a witch in the neighboring village of Petz and must be returned quickly, so they set out on an adventure to return them. Of course there's a beanstalk, a giant, a hen that lays golden eggs, witches and all kinds of twists and turns. This tween book is a quick, humorous read with just enough fun and enchantment to keep the pages turning.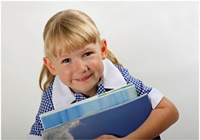 Many of our locations will be participating in a story time break before our Summer Library Program begins to accommodate school visits and prepare for our summer programs. Athens, Hatley and Rothschild will continue to have regularly scheduled story times. Marathon City will continue to have ...
---
Visit the Marathon County Public Library (MCPL) for access to thousands of children's books, magazines, videos, audio books, music and more! Plus, MCPL offers a variety of children's events including story times, arts and crafts, sing-alongs, summer reading program, hands-on learning, musical performances, puppet shows and more! MCPL children's activities are intended for children (pre-K–grade 5) and tweens (grades 3–5). Teen programming (grades 6-12) is offered via our TeenZone / Teen Services program.
---