Tween Book ★★★★ Attending her fifth new school in yet another new town, after yet another of her mother's failed relationships, Raine, an eighth-grader, desperately hopes that this school will be her last. Raine possesses a unique gift--she feels and sees sparkles around people that allow her to see their ... memories. When she discovers that a fellow student named Emily Huvar is missing, and the three cliquey girls at her new school appear to be somehow involved, she becomes obsessed with using her supernatural talent to solve this mystery and find her. Written for tweens, this fun, involving and unusual mystery and story of a girl desiring some sort of normalcy is hard to put down.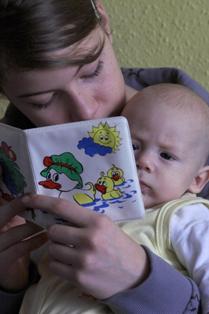 Beginning Monday, January 5, 2015, MCPL is taking a new approach to Book Babies Story time. Story time will begin at 10 a.m., and just like usual, provide 15 minutes of books, songs, and rhymes. But then, parents and babies are encouraged to hang out after and give babies a chance to do ...
---
Visit the Marathon County Public Library (MCPL) for access to thousands of children's books, magazines, videos, audio books, music and more! Plus, MCPL offers a variety of children's events including story times, arts and crafts, sing-alongs, summer reading program, hands-on learning, musical performances, puppet shows and more! MCPL children's activities are intended for children (pre-K–grade 5) and tweens (grades 3–5). Teen programming (grades 6-12) is offered via our TeenZone / Teen Services program.
---