Tween Book ★★★★★ 10-year-old Ada lives with her brother Jamie and mother in a filthy, rat infested one-room flat in London. She is often abused by her mother who does not allow her to go outside because her mother is ashamed of her clubfoot. When Jamie is being shipped off with other children to the country t ... o avoid injury from bombings during the war, Ada escapes to join him. When Susan Smith, a women still grieving a recent death is forced to take them in, they cannot believe their luck. Susan has a pony, running water, a clean house with several rooms and plenty of food to eat. But the lingering past abuse still haunts them. This is a wonderful, redeeming, remarkable tween novel featuring a brave young girl and her brother learning to love, trust, overcome the obstacles in their lives and believe in happiness.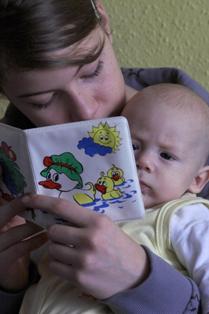 Beginning Monday, January 5, 2015, MCPL is taking a new approach to Book Babies Story time. Story time will begin at 10 a.m., and just like usual, provide 15 minutes of books, songs, and rhymes. But then, parents and babies are encouraged to hang out after and give babies a chance to do ...
---
Visit the Marathon County Public Library (MCPL) for access to thousands of children's books, magazines, videos, audio books, music and more! Plus, MCPL offers a variety of children's events including story times, arts and crafts, sing-alongs, summer reading program, hands-on learning, musical performances, puppet shows and more! MCPL children's activities are intended for children (pre-K–grade 5) and tweens (grades 3–5). Teen programming (grades 6-12) is offered via our TeenZone / Teen Services program.
---