Children's Book ★★★★★ On an island far away, imaginary friends are born. Beekle is one of them, waiting to be chosen by a child and transported to the real world. Rather than waiting, Beekle does the unimaginable and sets sail to the real world. He finds that the real world is strange and uncomfortable, until he m ... eets his perfect friend. Then the world is colorful , fun, and not so strange. This is a fantastic book about finding your place in the big, bustling, sometimes unknown world. Dan Santat uses color to show the magic in the world and his creative imaginary creatures show the imagination of a true artist. This 2015 Caldecott winner has a beautiful story and illustrations, making it a can't miss book.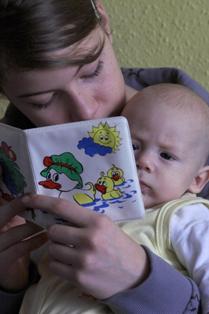 Beginning Monday, January 5, 2015, MCPL is taking a new approach to Book Babies Story time. Story time will begin at 10 a.m., and just like usual, provide 15 minutes of books, songs, and rhymes. But then, parents and babies are encouraged to hang out after and give babies a chance to do ...
---
Visit the Marathon County Public Library (MCPL) for access to thousands of children's books, magazines, videos, audio books, music and more! Plus, MCPL offers a variety of children's events including story times, arts and crafts, sing-alongs, summer reading program, hands-on learning, musical performances, puppet shows and more! MCPL children's activities are intended for children (pre-K–grade 5) and tweens (grades 3–5). Teen programming (grades 6-12) is offered via our TeenZone / Teen Services program.
---