Children's Book ★★★★ It's a fun, upside-down world in this new picture book that's full of nonsense by Eric Carle. A boy is pulled from a hat by a rabbit magician, a bird is living in an aquarium and a fish in a cage, a human baby is in a kangaroo's pouch, mice are catching cats, a man is living in a dog house ... and more. It's all of course in good fun. With classic, colorful, uncluttered illustrations and rhyming text, Carle creates a wonderfully silly environment for preschool kids to explore, respond to, and perhaps learn a few new words.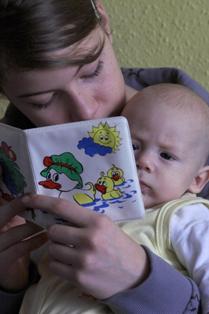 Beginning Monday, January 5, 2015, MCPL is taking a new approach to Book Babies Story time. Story time will begin at 10 a.m., and just like usual, provide 15 minutes of books, songs, and rhymes. But then, parents and babies are encouraged to hang out after and give babies a chance to do ...
---
Visit the Marathon County Public Library (MCPL) for access to thousands of children's books, magazines, videos, audio books, music and more! Plus, MCPL offers a variety of children's events including story times, arts and crafts, sing-alongs, summer reading program, hands-on learning, musical performances, puppet shows and more! MCPL children's activities are intended for children (pre-K–grade 5) and tweens (grades 3–5). Teen programming (grades 6-12) is offered via our TeenZone / Teen Services program.
---