Children's Book ★★★★★ This is the heartwarming story of the real life "Winnie the Pooh." I really enjoyed how the author told the story in two parts and also included real journal entries and photographs from WWI. In 1914, Harry Colebourn, a Canadian veterinarian on his way to care for horses in World War I, happe ... ned upon a lost baby bear at a train station. For some reason, his heart was telling him that there was something special about that bear. So, he offered to buy the bear for $20 from the trapper that had found her. He named her Winnie, after his hometown of Winnipeg, and he took the bear to war. Winnie became the mascot of Harry's regiment. They traveled to England where all of the soldiers, including their colonel thought that there was something very special about Winnie. It was soon apparent though, that Harry could not keep Winnie because he was going to be shipping off to France and would be caring for horses on the front lines. So, the real story begins. Harry Colebourn's real-life great-granddaughter tells the story to her young son, Cole. It is the true story of a remarkable friendship and an even more remarkable journey-from the fields of Canada to a convoy across the ocean to an army base in England, and finally to the London Zoo, where Winnie made another new friend: a real boy named Christopher Robin.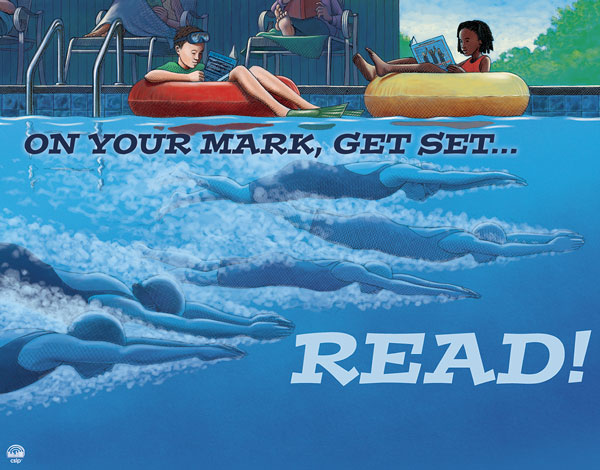 This year's summer theme is "On Your Mark, Get Set... Read!" and combines fitness and health with our usual focus on reading and discovery! Summer Reading Club is an important part of our summer program, and we have great activities planned for children of all ages, plus teens ...
---
Visit the Marathon County Public Library (MCPL) for access to thousands of children's books, magazines, videos, audio books, music and more! Plus, MCPL offers a variety of children's events including story times, arts and crafts, sing-alongs, summer reading program, hands-on learning, musical performances, puppet shows and more! MCPL children's activities are intended for children (pre-K–grade 5) and tweens (grades 3–5). Teen programming (grades 6-12) is offered via our TeenZone / Teen Services program.
---