Tween Book ★★★★★ Skipping school while out fishing with his father near the island of St. Helen's, Alfie and his father discover a half-starved, injured young girl who is barely alive on the small uninhabited island. Where she came from is a mystery since she is not speaking. His family cares for her, names h ... er Lucy, and as their relationship grows and she becomes a part of their family, they fiercely love and want to protect her. The townspeople, including a cruel school teacher, conclude that she's German and therefore the enemy, because she had a gray blanket with her with German words on it. Based on a true story about the sinking of the Lusitania, this beautifully written historical novel is definitely another winner from Michael Morpurgo, author of "War Horse." Written for tweens, this timely novel is a significant one, reminding readers of the often irreparable damage that fear, suspicion, hate, and bigotry can render. It will tear at your heartstrings and alternately affirm your belief in the power of love.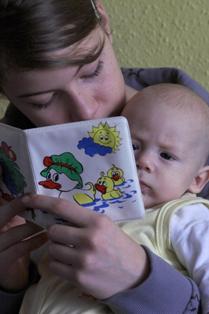 Beginning Monday, January 5, 2015, MCPL is taking a new approach to Book Babies Story time. Story time will begin at 10 a.m., and just like usual, provide 15 minutes of books, songs, and rhymes. But then, parents and babies are encouraged to hang out after and give babies a chance to do ...
---
Visit the Marathon County Public Library (MCPL) for access to thousands of children's books, magazines, videos, audio books, music and more! Plus, MCPL offers a variety of children's events including story times, arts and crafts, sing-alongs, summer reading program, hands-on learning, musical performances, puppet shows and more! MCPL children's activities are intended for children (pre-K–grade 5) and tweens (grades 3–5). Teen programming (grades 6-12) is offered via our TeenZone / Teen Services program.
---