Tween Book ★★★★★ Augie's life is like a strange, really bad fairy tale—literally. His parents own an amusement park he works at called Fairy Tale Place which they are struggling to keep going. He is bullied at school, has failed Creative Arts and needs to redo his final project, and the girl he likes bare ... ly knows he's alive. On top of all this, his best friend Britt dies while on vacation and he feels responsible. After all, there may have been peanuts in the cookie he gave him before he left. The graphic sections of this book are a real plus giving us even more insight into Augie's world. This is a funny, sad, sweet, imaginative tween novel about a middle school boy struggling with his identity and life's challenges and possibilities.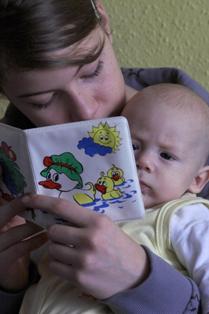 Beginning Monday, January 5, 2015, MCPL is taking a new approach to Book Babies Story time. Story time will begin at 10 a.m., and just like usual, provide 15 minutes of books, songs, and rhymes. But then, parents and babies are encouraged to hang out after and give babies a chance to do ...
---
Visit the Marathon County Public Library (MCPL) for access to thousands of children's books, magazines, videos, audio books, music and more! Plus, MCPL offers a variety of children's events including story times, arts and crafts, sing-alongs, summer reading program, hands-on learning, musical performances, puppet shows and more! MCPL children's activities are intended for children (pre-K–grade 5) and tweens (grades 3–5). Teen programming (grades 6-12) is offered via our TeenZone / Teen Services program.
---