Marathon County Public Library
---
Visit the Marathon County Public Library (MCPL) for access to thousands of children's books, magazines, videos, audio books, music and more! Plus, MCPL offers a variety of children's events including story times, arts and crafts, sing-alongs, summer reading program, hands-on learning, musical performances, puppet shows and more! MCPL children's programming is geared toward children (pre-K–grade 5) and tweens (grades 3–5). Teen programming (grades 6-12) is offered via our Teen Services / TeenZone program.
Staff Reviews
Children's Book ★★★★ What did athletes wear at the original Olympics? Which horse had a city named after him? Did Romans eat chips? Find out the answers to these crazy questions in Paul Mason's fun book about history. The book is filled with funny illustrations and asks questions about a wide range of historical ... events. The questions range geographically from South America to Japan, and historically from ancient times to World War II. Great for any school-aged child who enjoys history or fun facts about the world.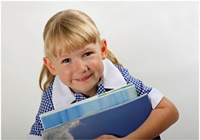 Summer is fast approaching, and as usual, there will be some changes to the regular story time schedules at most MCPL locations. Most branches will take a break from their story times to focus on Summer Library Program events. At MCPL Wausau, we'll be taking a break from story times in May to ...
---