Children's Book ★★★★★ A year after her mother's death, Cally sees her mother at the cemetery but no one will believe her. Worse yet, no one wants her to talk about her mother. She continues to see her mother often along with a friendly wolfhound and an elderly homeless man. She volunteers to not talk for a day a ... t school to help raise money for a children's hospice home and decides to continue her silence since no one wants to listen to her or talk about her mother. This is a wonderful story of friendship, love, hope and courage in the face of great loss. Written for tweens, it will touch the heart of everyone who reads it.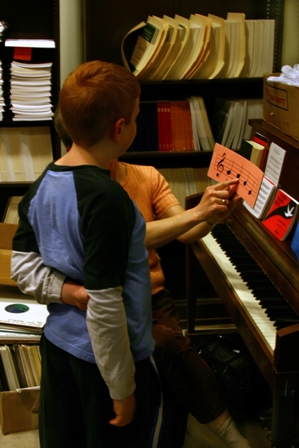 Music has many benefits to children of all ages; it gives children an outlet for expression, it breaks down language so children hear the smaller sounds in words (also known as phonological awareness), and music stimulates brain development in specific areas including language and reasoning. So, ...
---
Visit the Marathon County Public Library (MCPL) for access to thousands of children's books, magazines, videos, audio books, music and more! Plus, MCPL offers a variety of children's events including story times, arts and crafts, sing-alongs, summer reading program, hands-on learning, musical performances, puppet shows and more! MCPL children's activities are intended for children (pre-K–grade 5) and tweens (grades 3–5). Teen programming (grades 6-12) is offered via our TeenZone / Teen Services program.
---