Tween Book ★★★★ After their parents' deaths from an explosion at their ranch, Connor, Cordelia and Kip, their pet capybara, are sent to live with their aunt Marigold in the town of Woundabout. They discover that it is an odd city where routine and conformity rule and nothing ever changes. To maintain the s ... tatus quo the mayor allows very few children to live there since they could cause change. With their friend Nico, a boy from a neighboring town, Connor and Cordelia uncover a mysterious huge, hidden crank which could threaten the town's way of life. This is a fun read for tweens with interesting characters and an unusual pet.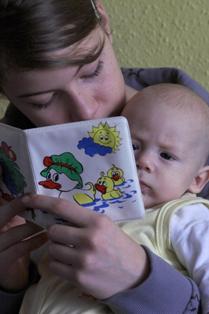 Beginning Monday, January 5, 2015, MCPL is taking a new approach to Book Babies Story time. Story time will begin at 10 a.m., and just like usual, provide 15 minutes of books, songs, and rhymes. But then, parents and babies are encouraged to hang out after and give babies a chance to do ...
---
Visit the Marathon County Public Library (MCPL) for access to thousands of children's books, magazines, videos, audio books, music and more! Plus, MCPL offers a variety of children's events including story times, arts and crafts, sing-alongs, summer reading program, hands-on learning, musical performances, puppet shows and more! MCPL children's activities are intended for children (pre-K–grade 5) and tweens (grades 3–5). Teen programming (grades 6-12) is offered via our TeenZone / Teen Services program.
---