Children's Book ★★★★★ You don't have to be a yogi to love this book. This pose-by-pose bedtime story takes children through gentle yoga poses and focuses their breathing while telling the story about the world getting ready for bed. Complete with beautiful illustrations, this book can be enjoyed by the whole famil ... y. Following the story, there is a complete list of the yoga poses in sequence and a "cloud journey visualization" to help children relax and wind down before bedtime. Yoga is a great way to relax, distress, and spend some time together as a family. My family loved this book, I hope yours does too!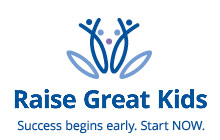 If you are a parent, guardian, grandparent, or child caregiver, we would like your input! Raisgreatkids.org is a local website put out by a collaborative effort of community partners under the Early Years Coalition. Marathon County Public Library is a member of this coalition, and we need your help ...
---
Visit the Marathon County Public Library (MCPL) for access to thousands of children's books, magazines, videos, audio books, music and more! Plus, MCPL offers a variety of children's events including story times, arts and crafts, sing-alongs, summer reading program, hands-on learning, musical performances, puppet shows and more! MCPL children's activities are intended for children (pre-K–grade 5) and tweens (grades 3–5). Teen programming (grades 6-12) is offered via our TeenZone / Teen Services program.
---