Children's Book ★★★★ Walter, the ferry dog loves his perfect job. He greets ferry-goers, fetches the captain's morning newspaper, tastes the cook's food, watches babies and barks at seagulls. The captain's cat is the only one aboard he does not like. One day he doesn't feel needed and decides to leave and ... try life on the island. This sweet, simple picture book will appeal to everyone, but especially to children who have either have been on a family vacation that included a ride on a ferry boat or dream of going.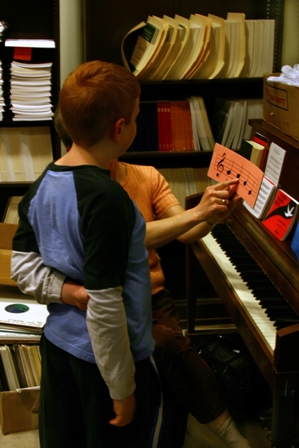 Music has many benefits to children of all ages; it gives children an outlet for expression, it breaks down language so children hear the smaller sounds in words (also known as phonological awareness), and music stimulates brain development in specific areas including language and reasoning. So, ...
---
Visit the Marathon County Public Library (MCPL) for access to thousands of children's books, magazines, videos, audio books, music and more! Plus, MCPL offers a variety of children's events including story times, arts and crafts, sing-alongs, summer reading program, hands-on learning, musical performances, puppet shows and more! MCPL children's activities are intended for children (pre-K–grade 5) and tweens (grades 3–5). Teen programming (grades 6-12) is offered via our TeenZone / Teen Services program.
---