Children's Book ★★★★ Twelve-year-old Charlie Laird has big problems. His mom died, his dad remarried, and now together with his younger brother Jack they must move into his new "stepmonster's" (that's what he calls her) odd-looking purple mansion with a tower. Positive that his new "stepmonster" is a witch, h ... e barricades himself inside his new bedroom where he can't sleep because he is plagued with nightmares. But when the Waking World and the Netherworld collide, Charlie finds himself battling his fears in the creepy Netherworld seemingly unable to get out without help. This is a fun, exciting read that tweens and others will enjoy.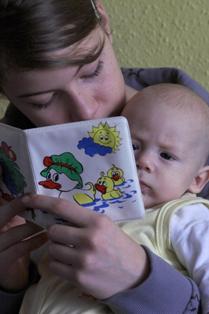 Beginning Monday, January 5, 2015, MCPL is taking a new approach to Book Babies Story time. Story time will begin at 10 a.m., and just like usual, provide 15 minutes of books, songs, and rhymes. But then, parents and babies are encouraged to hang out after and give babies a chance to do ...
---
Visit the Marathon County Public Library (MCPL) for access to thousands of children's books, magazines, videos, audio books, music and more! Plus, MCPL offers a variety of children's events including story times, arts and crafts, sing-alongs, summer reading program, hands-on learning, musical performances, puppet shows and more! MCPL children's activities are intended for children (pre-K–grade 5) and tweens (grades 3–5). Teen programming (grades 6-12) is offered via our TeenZone / Teen Services program.
---