Children's Book ★★★★ Just two days after the funeral of her pet human, Fluffy (a.k.a. Amelia), a young girl named Winnie bursts into mournful Miss Drakes's secret door in the basement proclaiming that she has been sent by her great-aunt Amelia so Miss Drake won't be lonely. Almost immediately, Miss Drake, who h ... appens to be a dragon, theorizes that this seemingly obnoxious small human is going to be an extremely difficult pet to train. An adventure together leads them to more fantastical creatures and the procurement of a bewitched sketchbook destined to bring them both a bunch of trouble. This cute, heartwarming, humorous tale of unlikely friendships and love is one that tweens and all ages will enjoy.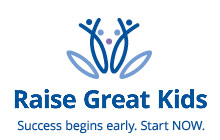 If you are a parent, guardian, grandparent, or child caregiver, we would like your input! Raisgreatkids.org is a local website put out by a collaborative effort of community partners under the Early Years Coalition. Marathon County Public Library is a member of this coalition, and we need your help ...
---
Visit the Marathon County Public Library (MCPL) for access to thousands of children's books, magazines, videos, audio books, music and more! Plus, MCPL offers a variety of children's events including story times, arts and crafts, sing-alongs, summer reading program, hands-on learning, musical performances, puppet shows and more! MCPL children's activities are intended for children (pre-K–grade 5) and tweens (grades 3–5). Teen programming (grades 6-12) is offered via our TeenZone / Teen Services program.
---