Tween Book ★★★★★ This new children's biography of perhaps Wisconsin's most well known and loved author, Laura Ingalls Wilder, is a great addition for all her fans. Written in a plain, simple style it includes most of the facts we know about her and her family. The illustrations by Yona Zeldis McDonough are ... simple, warm and homey, reminiscent of the illustrations by Garth Williams in the well-known editions of the "Little House" books. Included in this edition are philosophical quotes by Laura, rules and descriptions for unfamiliar games Laura played as a child, instructions for making corn husk dolls, and recipes for gingerbread, johnnycakes and homemade butter. Written for younger tweens, this book will be eagerly read by all ages who can never read enough about this beloved author.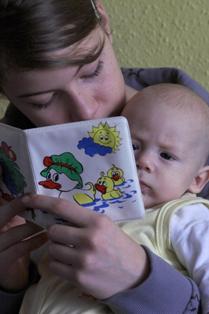 Beginning Monday, January 5, 2015, MCPL is taking a new approach to Book Babies Story time. Story time will begin at 10 a.m., and just like usual, provide 15 minutes of books, songs, and rhymes. But then, parents and babies are encouraged to hang out after and give babies a chance to do ...
---
Visit the Marathon County Public Library (MCPL) for access to thousands of children's books, magazines, videos, audio books, music and more! Plus, MCPL offers a variety of children's events including story times, arts and crafts, sing-alongs, summer reading program, hands-on learning, musical performances, puppet shows and more! MCPL children's activities are intended for children (pre-K–grade 5) and tweens (grades 3–5). Teen programming (grades 6-12) is offered via our TeenZone / Teen Services program.
---