Marathon County Public Library
---
Visit the Marathon County Public Library (MCPL) for access to thousands of children's books, magazines, videos, audio books, music and more! Plus, MCPL offers a variety of children's events including story times, arts and crafts, sing-alongs, summer reading program, hands-on learning, musical performances, puppet shows and more! MCPL children's programming is geared toward children (pre-K–grade 5) and tweens (grades 3–5). Teen programming (grades 6-12) is offered via our Teen Services / TeenZone program.
Staff Reviews
Children's Book ★★★★ Spark is a small, young dragon with a mighty flame. In other words, he has problems controlling his flames. He turns marshmallows to a crisp and cracks dishes while trying to dry them. His family and friends encourage him and try to help him. This is a cute first chapter book with engagi ... ng illustrations for beginning readers.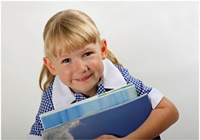 Summer is fast approaching, and as usual, there will be some changes to the regular story time schedules at most MCPL locations. Most branches will take a break from their story times to focus on Summer Library Program events. At MCPL Wausau, we'll be taking a break from story times in May to ...
---