Children's Book ★★★★ Pram Bellamy lives with her two aunts in a home for the elderly which they manage. Her mother died under strange circumstances in childbirth, and all she was told about her father is that he was a sailor. She's been homeschooled and has no friends except for a ghost named Felix near the pon ... d. As far as she knows she has always been able to see and talk to ghosts, beginning with insect ghosts. Forced to go to a real school, Pram meets Clarence, a real, living boy who is also searching for his dead mother. Together they go to Lady Savant's Spirit Show looking for answers only to discover that Lady Savant is not all that she appears and they may be in danger. This well-written, compelling novel for tweens is a quick and affecting read that will keep you engaged long after you finish the final chapter.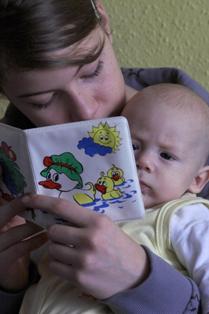 Beginning Monday, January 5, 2015, MCPL is taking a new approach to Book Babies Story time. Story time will begin at 10 a.m., and just like usual, provide 15 minutes of books, songs, and rhymes. But then, parents and babies are encouraged to hang out after and give babies a chance to do ...
---
Visit the Marathon County Public Library (MCPL) for access to thousands of children's books, magazines, videos, audio books, music and more! Plus, MCPL offers a variety of children's events including story times, arts and crafts, sing-alongs, summer reading program, hands-on learning, musical performances, puppet shows and more! MCPL children's activities are intended for children (pre-K–grade 5) and tweens (grades 3–5). Teen programming (grades 6-12) is offered via our TeenZone / Teen Services program.
---