Nonfiction @ Night: "Lost in Shangri-La" by Mitchell Zuckoff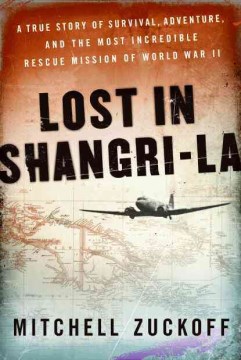 Adults Give your brain a work-out by reading and discussing some timely nonfiction titles during the Nonfiction @ Night Book Club at our Stratford Branch!

The book we'll read and discuss for June is "Lost in Shangri-La" by Mitchell Zuckoff.

In this book, award-winning former Boston Globe reporter Mitchell Zuckoff unleashes the exhilarating, untold story of an extraordinary World War II rescue mission, where a plane crash in the South Pacific plunged a trio of U.S. military personnel into the jungle-clad land of New Guinea.

Join us for the Nonfiction @ Night Book Club to discuss fascinating books and topics with your neighbors. From history and social issues to science and psychology, nonfiction illuminates any number of areas, making you more intelligent and well-rounded. And it's easy to do: Just read each month's book and show up! New attendees are always welcome.

For more information, call our Stratford Branch at 715-687-4420.
20190605_STR_Nonfiction-Night-Lost-in-ShangriLa-by-Mitchell-Zuckoff_4p20q
Wednesday, June 5, 2019
6:00–7:00 p.m.
---