learning • community • ideas • information
---
Holiday hours: MCPL Wausau will be closed all day on Sunday, April 20, 2014.
Event of the moment:
Sat., 5/10/14, 10:30am – 12:00pm @ MCPL Wausau
Award-winning children's author and illustrator
David LaRochelle
will read from several of his books and discuss his book creation process. Afterward, kids can create their own "Wanted" poster for a mean vegetable of their choice. Supplies will be provided.
... (read more
)
Crafts Story Time Author Visit Childrens Book Week Wausau Children | Add to your calendar

.
Adult Book ★★★★★ Armchair travelers will enjoy Sabrina Talarico's captivating, full-color guide to the most breath-taking beaches in the world. Each beach rates a one-page write-up with one or more color photographs. The beaches are divided into sections: 'Fun Beaches,' ' Protected Beaches,' 'Natural Paradise ... s,' 'Sports Beaches' and so on. The result is a charming, gorgeous guide to scenic sites around the globe.
Reviewed by Mike O. Read more book reviews at Goodreads.com.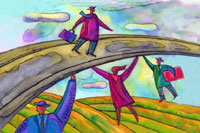 National Library Week (NLW) is upon us, and it's more than a chance to celebrate all that your library means to you (although we are grateful for your appreciation). This year's NLW theme is "Lives Change @ Your Library," and we've scheduled a number of events ...
---