Marathon County Public Library
learning • community • ideas • information
---
---
Event of the moment:
Tue., 10/7/14, 7:00pm – 8:15pm @ MCPL Wausau
Meet
Ilsa J. Bick
, an award-winning Wisconsin author of short stories and novels for teens and adults! She will be reading from her latest books, signing copies of her books, and discussing how she became a writer. Teens are especially encouraged to read one of her books and come prepared with questions! ...
(read more)
Author Visit Writing Wausau Teens | Add to your calendar

.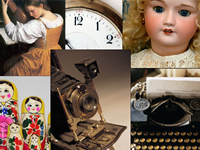 Antiques expert Mark Moran, guest expert on the PBS series Antiques Roadshow, will visit MCPL Wausau on September 28 to evaluate and appraise antique toys, clocks, costume jewelry, artwork, vintage photographs and glassware. Just like on the PBS show, spectators are welcome! If ...
---
Featured Online Resource
Full text general reference publications, periodicals, reference books, primary source documents covering virtually every subject area of general interest; includes photos, maps and flags.
Badgerlink
Newspapers & Magazines
»
Adult Book ★★★★ What a satisfying summer read! This is the first book in a trilogy that follows the lives of three half-sisters and their grandmother, who lives in the costal South Carolina island, Sullivan Island. All of the girls have been drawn back to their grandmother's house for the summer after long p ... eriods of time living their separate lives. The girls come together and need to learn how to love one another again. The costal location of the book plays a role in all of their lives as they re-connect to a long forgotten love of the place. This has all of the beach you could want, so much so that a dolphin plays a major role in the plotline. The author even goes so far as to adding facts about dolphins at the end of the book! The story of the sisters really draws the reader in and makes you want to read the next book to see how each of their lives unfold. I would definitely recommend this to anyone!
Reviewed by Ashley C.
Read more reviews at Goodreads.com.
---