Marathon County Public Library
learning • community • ideas • information
---
---
Adult Book ★★★★ Do you have an upcoming celebration that you'd like to bring an extra special cake to? This book is perfect for bakers who would like an extra challenge, or those with a special occasion coming up. Filled with possibilities, ideas, and recipes, this book is a fun resource for those looking to ... make an exceptional dessert!
Reviewed by Sarah M.
Read more reviews at Goodreads.com.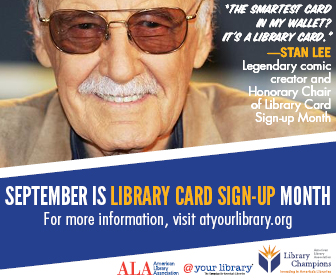 This September, libraries all across the country are reminding parents and children that a library card is the most important school supply, whether you are a child or an adult returning to school after a long absence. Legendary comic book creator Stan Lee is the face of the 2014-2015 national ...
---
Featured Online Resource
Practice tests, tutorials, and e-books to help you succeed at work, school, or while searching for a job. Offers test prep.: ACT, AP, CLEP, PSAT, SAT, TOEFL, GED, U.S. Citizenship, and more; tutorials for popular software: Microsoft Office, Adobe CS, Windows, Apple OS, and more; reading, writing, and math tutorials for all ages.
Please note: If you created a LearningExpress account prior to 1/3/14, you will need to re-register.
Badgerlink
Teen
Children
Computers & Technology
Job Search
Online Courses
Small Business
»
---