Marathon County Public Library
learning • community • ideas • information
---
---
Many of our locations are taking a break from regular story times over the winter holidays. Here is a list of story time breaks for all MCPL locations. For further questions, feel free to contact us. MCPL Wausau: No weekly story time from December 21, 2014-January 4, 2015. Play and Learn ...
---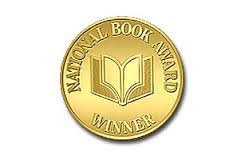 Finalists for the National Book Award were announced today, bringing recognition to 20 authors in four categories: fiction, non-fiction, poetry and young people's literature. The winners in each category will be announced Nov. 19, but if you'd like to sample the work of some of the ...
---
Featured Online Resource
Only accessible while at the library.
| With over 1.2 billion records in over 3,000 databases, this is a comprehensive online source of information available for conducting genealogical and local history research. (Note: There may be occasions when this resource is temporarily unavailable due to a limit of four simultaneous connections within the Wisconsin Valley Library Service.)
Genealogy
»
Adult Book ★★ Composer Peter Els has become a fugitive from Homeland Security. A philosophical, retired composer, Peter has been conducting chemistry experiments in his garage to find the true essence of music in the elements of earth. Chemistry was his second love, his first being a dreamy music student b ... y the name of Clara, who urged Peter to pursue his talent for composing as something he owed the world. A retired professor of music, his run from the law is a slow and confusing walk. Peter marks time with a cerebral trip through his past which became just a bit too slow and cerebral for this reader. The narrative is an unending array of musically-related terms, adjectives and adverbs that challenge a reader seeking a more typical hide-and-seek adventure. Sentence after sentence of descriptions of Peter's thought processing begins to wear on reader's hopes to find some action in this story. In addition, if the reader is not savy to musical notation and terminology, many of the analogies are lost. Powers' description of tree frogs singing goes like this: "The new chord bent into more grating intervals, a flat third, widening to almost a triton, a glacial creation like Xenakis or Lucier, one of those cracked Jeremiahs, howling in the wilderness, looking for a way beyond" is an example of how he will stretch the imagination of the reader beyond the normal parameters of mystery reading. But note that Powers is described as a writer who "may be America's most ambitious novelist" (Kevin Berger, San Francisco Chronicle) and has won awards for his writing, so he just may be your cup of tea.
Reviewed by Karen J.
Read more reviews at Goodreads.com.
---