Wisconsin Valley Library Service
The Marathon County Public Library (MCPL) is a member of the Wisconsin Valley Library Service (WVLS), a library system made up of many other libraries throughout north-central Wisconsin (map).
WVLS facilitates the online library catalog (V-Cat) shared by the public libraries in this system and provides libraries with logistical and financial support.
Additional information about WVLS:
Founded: August 1961
Director: Marla Sepnafski
Website: www.wvls.org
Address: 300 North First St., Wausau, WI 54403 (WVLS rents space from the Marathon County Public Library.)
Phone: 715-261-7251
Fax: 715-261-7259
Area served: 7,360 square miles including the north central Wisconsin counties of Clark, Forest, Langlade, Lincoln, Marathon, Oneida and Taylor.
Population served: 281,860 (2017 municipal/extended county population)
Number of libraries: Service is provided to 25 public libraries, plus school, academic and non-public libraries, across the seven-county service area.
Governance: WVLS operates under Chapter 43 of the Wisconsin Statutes and is governed by a 15-member Board of Trustees. Each participating county has at least one member on the board; the rest are allocated according to population. Trustees are appointed by the Chairs of the County Boards of Supervisors.
Budget & funding: For the most current information, visit www.wvls.org/budget-resources.
Major services: Online library catalog administration, collective purchasing, internet access, technical expertise and support, online resources/databases, courier service, consultant service, continuing education and training for library personnel and trustees.
Staff: For the most current information, visit www.wvls.org/contact-hours.
State view: WVLS is one of 16 library systems in Wisconsin. Systems range in size from one to 10 counties.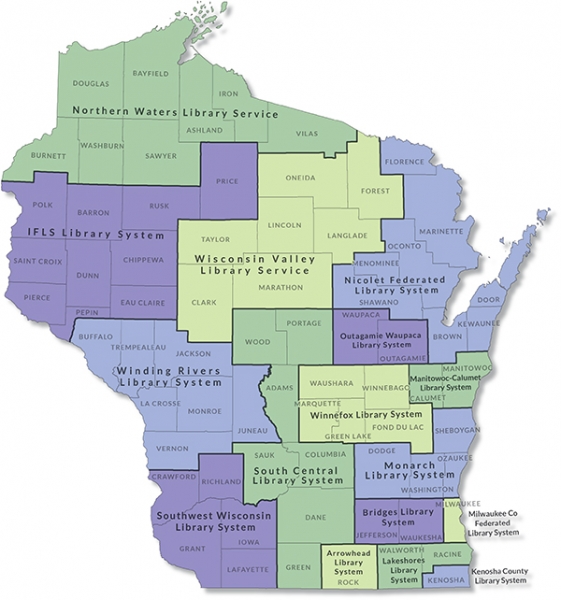 Marathon County Public Library (MCPL)