Computers / Wireless Internet (Wi-Fi)
Public Computer Labs
All MCPL locations offer public computer labs with Internet access and productivity software.

Library card-holders may receive one hour of computer access per day – with additional time automatically granted in 30-minute increments (except during periods of high demand). Card-holders with $25 or more in fines will be unable to access the computers.

Visitors with acceptable identification are entitled to a single-use guest pass for up to two hours of computer access.

Black and white printing is 10 cents per one-sided page. You must pre-pay at the front desk before printing.

Headphones should be used to avoid disturbing other patrons.

During peak usage or to ensure access to a particular computer, patrons may wish to reserve a computer with the assistance of library staff.

Computer usage is subject to the library's Computer and Internet Access and Use policy.

Please note: Due to the pandemic, face masks are required for in-person technology assistance until further notice.
Wireless Internet Access (Wi-Fi) 
All MCPL locations offer Wi-Fi; just look for the network name (SSID) "MCPL [Location] Guest" (e.g. "MCPL Wausau Guest").

Wi-Fi access may be possible from outside of the library (e.g. the parking lot, municipal facilities and nearby outdoor areas):

Wi-Fi printing is not possible. Ask library staff for other printing options.

If you can't connect to the library's Wi-Fi, library staff can offer basic troubleshooting, but they cannot extensively reconfigure or repair your device.
Laptops and tablets are available for two-hour, in-house checkout according to the library's Laptop/Tablet Checkout Policy & Patron Agreement at all MCPL locations.
E-readers are available for 14-day checkout according to the library's E-Reader Checkout Policy and Patron Agreement. They may be requested for pickup at any MCPL location.
Are you having a little trouble navigating your new smartphone, tablet or laptop? Or would you like to get better acquainted with e-books, productivity software, or the library's online resources? Let an MCPL staff member give you one-on-one help during Tech Time!
From time to time, the library schedules basic computer and technology classes for adults, special presentations on technology-related topics, and technology-themed events for children. For these and other upcoming events, check out the library's events calendar.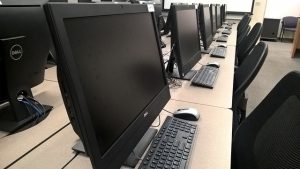 Marathon County Public Library (MCPL)