With nine locations throughout Marathon County, Wisconsin, chances are there's an MCPL near you!
For immediate assistance (regardless of location), call 715-261-7200. You may also contact us by email, or dial 715-261-7209 for 24/7 automated assistance.
Visit our Holiday Hours & Closings webpage for exceptions to the following hours of operation.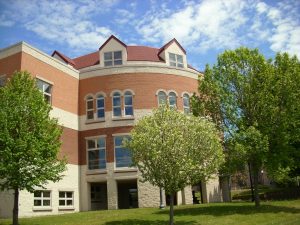 MCPL Wausau
Marathon County Public Library – Wausau Headquarters
300 North First Street
Wausau, WI 54403

call: 715-261-7200
email: info@mcpl.us
fax: 715-261-7204
Drive Thru: Mon.–Fri., 9 a.m.–5 p.m.
| | |
| --- | --- |
| | Hours |
| Mon. | 9 a.m.–8 p.m. |
| Tue. | 9 a.m.–8 p.m. |
| Wed. | 9 a.m.–8 p.m. |
| Thu. | 9 a.m.–8 p.m. |
| Fri. | 9 a.m.–5 p.m. |
| Sat. | 9 a.m.–5 p.m. |
| Sun. | – |
MCPL Athens
Marathon County Public Library – Athens Branch
203 Alfred Street
Athens, WI 54411
call: 715-257-7292
email: info@mcpl.us
| | |
| --- | --- |
|   | Hours |
| Mon. | 10 a.m.–4 p.m. |
| Tue. | 1 p.m.–7 p.m. |
| Wed. | 10 a.m.–4 p.m. |
| Thu. | 1 p.m.–7 p.m. |
| Fri. | 10 a.m.–4 p.m. |
| Sat. | 10 a.m.–2 p.m. |
| Sun. | – |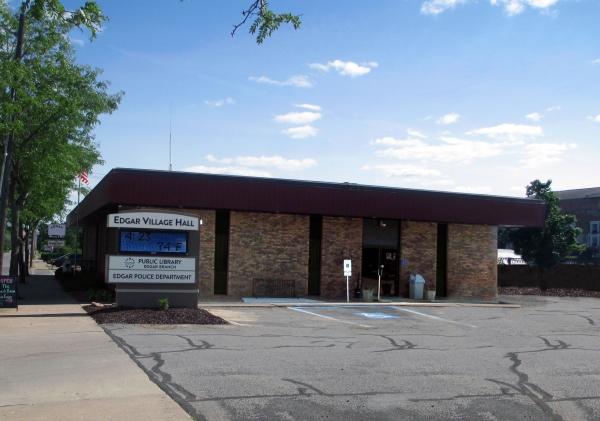 MCPL Edgar
Marathon County Public Library – Edgar Branch
224 South Third Avenue
Edgar, Wisconsin 54426
call: 715-352-3155
email: info@mcpl.us
| | |
| --- | --- |
| | Hours |
| Mon. | 1–7 p.m. |
| Tue. | 10 a.m.–4 p.m. |
| Wed. | 1–7 p.m. |
| Thu. | 10 a.m.–4 p.m. |
| Fri. | 10 a.m.–4 p.m. |
| Sat. | 10 a.m.–2 p.m |
| Sun. | – |
MCPL Hatley
Marathon County Public Library – Hatley Branch
435 Curtis Avenue
Hatley, Wisconsin 54440
call: 715-446-3537
email: info@mcpl.us
| | |
| --- | --- |
| | Hours |
| Mon. | 1–7 p.m. |
| Tue. | 10 a.m.–4 p.m. |
| Wed. | 1–7 p.m. |
| Thu. | 10 a.m.–4 p.m. |
| Fri. | 10 a.m.–4 p.m. |
| Sat. | 10 a.m.–2 p.m |
| Sun. | – |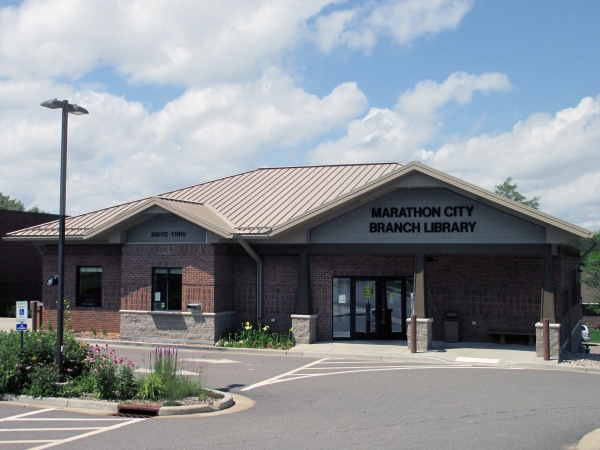 MCPL Marathon City
Marathon County Public Library – Marathon City Branch
515 Washington Street
Marathon City, Wisconsin 54448
call: 715-443-2775
email: info@mcpl.us
| | |
| --- | --- |
|   | Hours |
| Mon. | 1–7 p.m. |
| Tue. | 10 a.m.–4 p.m. |
| Wed. | 1–7 p.m. |
| Thu. | 10 a.m.–4 p.m. |
| Fri. | 10 a.m.–4 p.m. |
| Sat. | 10 a.m.–2 p.m. |
| Sun. | – |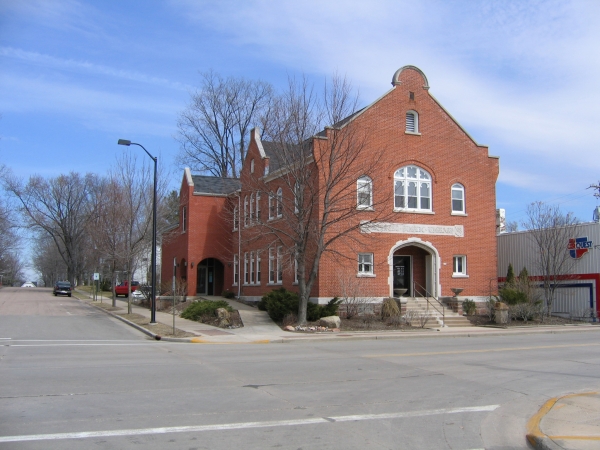 MCPL Mosinee
Marathon County Public Library – Mosinee Branch
123 Main Street
Mosinee, Wisconsin 54455
call: 715-693-2144
email: info@mcpl.us
| | |
| --- | --- |
|   | Hours |
| Mon. | 10 a.m.–4 p.m. |
| Tue. | 1 p.m.–7 p.m. |
| Wed. | 10 a.m.–4 p.m. |
| Thu. | 1 p.m.–7 p.m. |
| Fri. | 10 a.m.–4 p.m. |
| Sat. | 10 a.m.–2 p.m. |
| Sun. | – |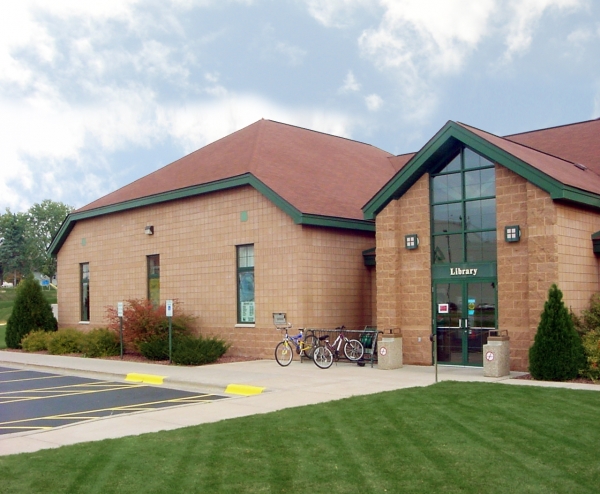 MCPL Rothschild
Marathon County Public Library – Rothschild Branch
211 Grand Avenue
Rothschild, Wisconsin 54474
call: 715-359-6208
email: info@mcpl.us
| | |
| --- | --- |
|   | Hours |
| Mon. | 10 a.m.–7 p.m. |
| Tue. | 10 a.m.–7 p.m. |
| Wed. | 10 a.m.–7 p.m. |
| Thu. | 10 a.m.–7 p.m. |
| Fri. | 10 a.m.–4 p.m. |
| Sat. | 10 a.m.–2 p.m. |
| Sun. | – |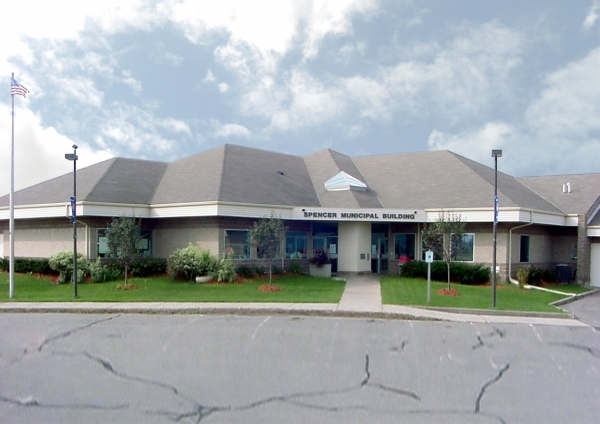 MCPL Spencer
Marathon County Public Library – Spencer Branch
105 South Park Street
Spencer, Wisconsin 54479
call: 715-659-3996
email: info@mcpl.us
| | |
| --- | --- |
|   | Hours |
| Mon. | 1–7 p.m. |
| Tue. | 10 a.m.–4 p.m. |
| Wed. | 1–7 p.m. |
| Thu. | 10 a.m.–4 p.m. |
| Fri. | 10 a.m.–4 p.m. |
| Sat. | 10 a.m.–2 p.m. |
| Sun. | – |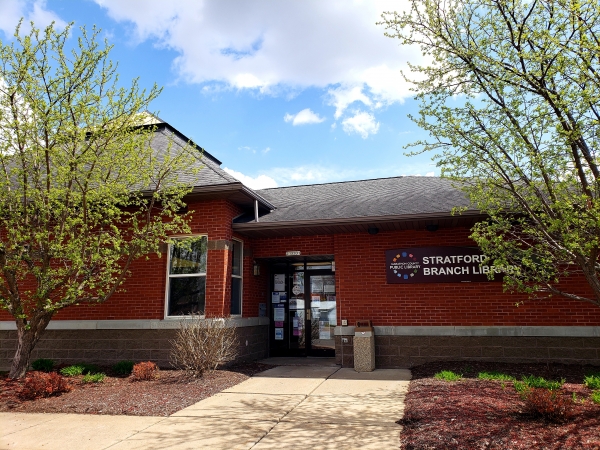 MCPL Stratford
Marathon County Public Library – Stratford Branch
213201 Scholar Street
Stratford, Wisconsin 54484
call: 715-687-4420
email: info@mcpl.us
| | |
| --- | --- |
|   | Hours |
| Mon. | 10 a.m.–4 p.m. |
| Tue. | 1–7 p.m. |
| Wed. | 10 a.m.–4 p.m. |
| Thu. | 1–7 p.m. |
| Fri. | 10 a.m.–4 p.m. |
| Sat. | 10 a.m.–2 p.m. |
| Sun. | – |
Athens
Edgar
Hatley
Marathon City
Mosinee
Rothschild
Spencer
Stratford
Wausau
Marathon County Public Library (MCPL)