Interlibrary Loan (WISCAT)
Browse the WISCAT interlibrary loan catalog to find and request items that are not available in the Library Catalog (V-Cat). WISCAT searches participating libraries throughout the state of Wisconsin, including public libraries, school libraries and others.
Borrowing limits: Requests for interlibrary loan items borrowed via WISCAT will be limited to five requests per patron per month for a total of 60 requests per year.
For interlibrary loan assistance, contact us by email or phone, or visit your local MCPL. (Please note: Some ILL inquiries must be handled by the Interlibrary Loan Coordinator, typically available Mon.–Fri., 9 a.m.–5 p.m.)
By using interlibrary loan, you agree to:
Only request items published or released prior to the current or previous calendar year — e.g. in 2016, you may not request items published in 2016 or 2015. (Check amazon.com for publication dates.)
Limit your ILL requests to five per month.
Avoid requesting feature films, (fictional) TV series, video games, original periodicals (copies are fine), textbooks or items valued under $10 (per amazon.com).
Avoid requesting items published more than 75 years ago.
Limit requests so that you have enough time to use the items you receive.
Allow two to eight weeks for fulfillment. Contact us to check the status of your request.
Pick up items promptly upon notification of their availability.
Return items by the due date printed on the ILL label.
Contact us to request renewals two to three days before the due date.
Abide by the copyright laws of the United States (Title 17, U.S. Code).
Interlibrary loan privileges may be suspended for:
Failure to pick up multiple items.
Failure to return multiple items by their due dates.
Multiple damaged or lost items.
Exceeding request limits.
Other abuses of the system.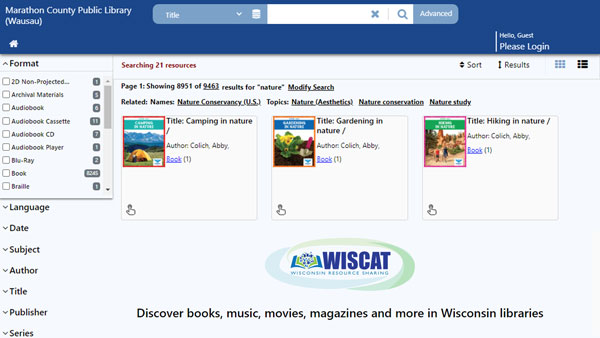 Marathon County Public Library (MCPL)