Children's Book ★★★★★ Morris Micklewhite loves painting, dreaming of great adventures and wearing the tangerine dress in the dress-up center at school. He loves the way it crinkles and swishes when he walks and the color reminds him of tigers, the sun and his mother's hair. But the other boys and some of the girls ... tell him "boys don't wear dresses" and exclude him from their activities and lunch table. After he creates a wonderful painting and adventure the other boys and girls begin to see him differently, beyond the tangerine dress. Simply and wonderfully illustrated by Isabelle Malenfant, this is a wonderful picture book for preschoolers on acceptance, understanding and the courage to be who you really are.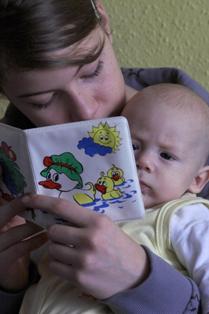 Beginning Monday, January 5, 2015, MCPL is taking a new approach to Book Babies Story time. Story time will begin at 10 a.m., and just like usual, provide 15 minutes of books, songs, and rhymes. But then, parents and babies are encouraged to hang out after and give babies a chance to do ...
---
Visit the Marathon County Public Library (MCPL) for access to thousands of children's books, magazines, videos, audio books, music and more! Plus, MCPL offers a variety of children's events including story times, arts and crafts, sing-alongs, summer reading program, hands-on learning, musical performances, puppet shows and more! MCPL children's activities are intended for children (pre-K–grade 5) and tweens (grades 3–5). Teen programming (grades 6-12) is offered via our TeenZone / Teen Services program.
---