Tween Book ★★★★★ Sick of being sick, Mark runs away from home with his dog Beau, his camera, and a bag of supplies to fulfill a dream to climb to the top of Mt Rainer while he still can. His cancer's back, but at least he won't have to endure yet another treatment. The novel alternates between Mark's mi ... nute-by-minute account of his adventurous journey and the intense reactions of his best friend Jessie, parents and family. Written for tweens, this raw, honest, personal portrayal of a brave young boy taking control of his life and trying to live his dream is unforgettable.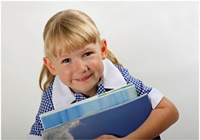 Many of our locations will be participating in a story time break before our Summer Library Program begins to accommodate school visits and prepare for our summer programs. Athens, Hatley and Rothschild will continue to have regularly scheduled story times. Marathon City will continue to have ...
---
Visit the Marathon County Public Library (MCPL) for access to thousands of children's books, magazines, videos, audio books, music and more! Plus, MCPL offers a variety of children's events including story times, arts and crafts, sing-alongs, summer reading program, hands-on learning, musical performances, puppet shows and more! MCPL children's activities are intended for children (pre-K–grade 5) and tweens (grades 3–5). Teen programming (grades 6-12) is offered via our TeenZone / Teen Services program.
---