Marathon County Public Library
---
Visit the Marathon County Public Library (MCPL) for access to thousands of children's books, magazines, videos, audio books, music and more! Plus, MCPL offers a variety of children's events including story times, arts and crafts, sing-alongs, summer reading program, hands-on learning, musical performances, puppet shows and more! MCPL children's programming is geared toward children (pre-K–grade 5) and tweens (grades 3–5). Teen programming (grades 6-12) is offered via our Teen Services / TeenZone program.
Staff Reviews
Children's Book ★★★★ Spark is a small, young dragon with a mighty flame. In other words, he has problems controlling his flames. He turns marshmallows to a crisp and cracks dishes while trying to dry them. His family and friends encourage him and try to help him. This is a cute first chapter book with engagi ... ng illustrations for beginning readers.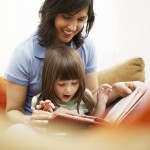 Make an extra effort to show affection to your child, especially while reading. Kids need a nurturing, healthy relationship to prosper academically. When your child feels loved, he or she is more willing to learn, listen, and grow and will therefore do better in school! Visit ...
---