Children's Book ★★★★★ Jocelyn has piracy and adventure in her blood so why did her grandfather send her to an all-too-pink finishing school for girls? Because she is the daughter of the infamous pirate Captain James Hook, that's why. After receiving a posthumous letter from her father requesting her to avenge hi ... s death and destroy the infamous crocodile that took his life, Jocelyn secures a ship, assembles a crew and sets sail for Neverland. Living up to her father's legacy, commanding a crew of surly pirates and fighting an ornery crocodile is, however, a bit more difficult than she imagined. This is wonderful fan fiction at its best; highly recommended for tweens and others.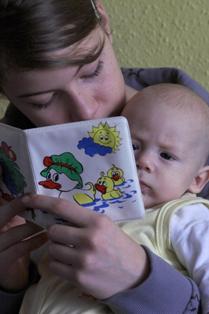 Beginning Monday, January 5, 2015, MCPL is taking a new approach to Book Babies Story time. Story time will begin at 10 a.m., and just like usual, provide 15 minutes of books, songs, and rhymes. But then, parents and babies are encouraged to hang out after and give babies a chance to do ...
---
Visit the Marathon County Public Library (MCPL) for access to thousands of children's books, magazines, videos, audio books, music and more! Plus, MCPL offers a variety of children's events including story times, arts and crafts, sing-alongs, summer reading program, hands-on learning, musical performances, puppet shows and more! MCPL children's activities are intended for children (pre-K–grade 5) and tweens (grades 3–5). Teen programming (grades 6-12) is offered via our TeenZone / Teen Services program.
---