Tween Book ★★★★ There are a lot of extraordinary things about the Great Rapscott School for Girls. The students arrive by air in E-Z open tab boxes, they are hand-picked from homes where the girls' parents are so busy they scarcely notice they're gone, the school is located in a lighthouse in the middle of ... nowhere, and the curriculum focuses on getting lost on purpose. The new students to arrive are Mildred, Bea, Fay, Annabelle and Dahlia, "who was a small girl because her parents forgot to remind her to grow." With plucky, cheerful Ms. Rapscott at the helm the girls go on many marvelous adventures, eat lots of birthday cake, and learn the basics of life that their parents are too busy to teach them, like changing underwear daily, keeping a secret, crossing a street safely, and finding missing socks. This utterly charming, delightful tween book is a little reminiscent of "Mary Poppins", and will have readers smiling the whole way through. It will especially appeal to young girls in search of a humorous, fun adventure story.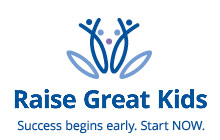 If you are a parent, guardian, grandparent, or child caregiver, we would like your input! Raisgreatkids.org is a local website put out by a collaborative effort of community partners under the Early Years Coalition. Marathon County Public Library is a member of this coalition, and we need your help ...
---
Visit the Marathon County Public Library (MCPL) for access to thousands of children's books, magazines, videos, audio books, music and more! Plus, MCPL offers a variety of children's events including story times, arts and crafts, sing-alongs, summer reading program, hands-on learning, musical performances, puppet shows and more! MCPL children's activities are intended for children (pre-K–grade 5) and tweens (grades 3–5). Teen programming (grades 6-12) is offered via our TeenZone / Teen Services program.
---