Children's Book ★★★★ Imagine catching dreams, distilling them, pouring them into bottles and selling them to people searching for certain types of dreams. This is what Sophie's parents do somewhat secretly in the lower level of their bookstore. Sophie, however, is not allowed to dream because when she does her ... dreams become real. Her octopus-like pet, Monster, came into her life this way at age six when curiosity got the better of her and she chugged down a dream. While searching for a cupcake for Monster, Sophie is inadvertently seen by Mr. Nightmare, a customer in her parents' dream store. Soon after this, her parents disappear, their dream store is trashed and dreams are stolen, leaving Sophie to try to figure out what's going on, catch the perpetrator and rescue her parents. Imaginative and fun, this adventurous tween fantasy will be thoroughly enjoyed by all ages.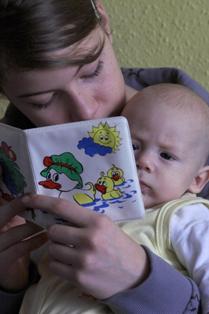 Beginning Monday, January 5, 2015, MCPL is taking a new approach to Book Babies Story time. Story time will begin at 10 a.m., and just like usual, provide 15 minutes of books, songs, and rhymes. But then, parents and babies are encouraged to hang out after and give babies a chance to do ...
---
Visit the Marathon County Public Library (MCPL) for access to thousands of children's books, magazines, videos, audio books, music and more! Plus, MCPL offers a variety of children's events including story times, arts and crafts, sing-alongs, summer reading program, hands-on learning, musical performances, puppet shows and more! MCPL children's activities are intended for children (pre-K–grade 5) and tweens (grades 3–5). Teen programming (grades 6-12) is offered via our TeenZone / Teen Services program.
---