Tween Book ★★★★ The old historic, creaky smugglers' inn called GreenGlass House sits high on a hill requiring guests to take a trolley type of car that gets pulled to the top. It is winter, close to the holidays, and usually free of guests so Milo, the adopted son of the innkeepers, is looking forward to a ... relaxing vacation. But unexpectedly the buzzer for the trolley car keeps ringing as several individual guests begin arriving. Their stories are varied and mysterious but somehow seem to be connected to this old house. When objects start disappearing from angry guests and a map is uncovered, Milo and his friends set off on a mysterious quest to recover the objects and uncover the secret history of the house and their guests. Written for tweens, this is a fun and engrossing read for all ages.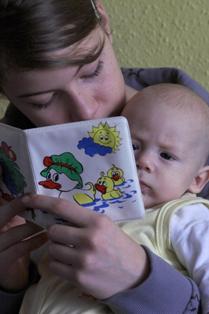 Beginning Monday, January 5, 2015, MCPL is taking a new approach to Book Babies Story time. Story time will begin at 10 a.m., and just like usual, provide 15 minutes of books, songs, and rhymes. But then, parents and babies are encouraged to hang out after and give babies a chance to do ...
---
Visit the Marathon County Public Library (MCPL) for access to thousands of children's books, magazines, videos, audio books, music and more! Plus, MCPL offers a variety of children's events including story times, arts and crafts, sing-alongs, summer reading program, hands-on learning, musical performances, puppet shows and more! MCPL children's activities are intended for children (pre-K–grade 5) and tweens (grades 3–5). Teen programming (grades 6-12) is offered via our TeenZone / Teen Services program.
---