Children's Book ★★★★ In this sleepy-time picture book, Maggie and her rabbit, Clement are getting ready for bed when Jean and his friend Alan arrive in pajamas. And of course it's time for a wonderful, surprise pajama party complete with bed jumping, chicken dancing, funny-face contest, hide-and-seek, yoga, foo ... d and finally sleep. Maggie reads everyone bed-time stories for sweet dreams, ending with kisses and giving thanks for a good day. The star of this sweet bedtime story with rhyming text and simple, relaxing illustrations, is the focus on gratitude.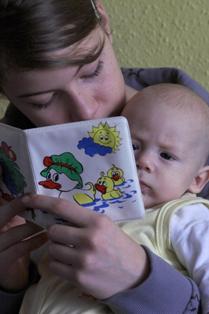 Beginning Monday, January 5, 2015, MCPL is taking a new approach to Book Babies Story time. Story time will begin at 10 a.m., and just like usual, provide 15 minutes of books, songs, and rhymes. But then, parents and babies are encouraged to hang out after and give babies a chance to do ...
---
Visit the Marathon County Public Library (MCPL) for access to thousands of children's books, magazines, videos, audio books, music and more! Plus, MCPL offers a variety of children's events including story times, arts and crafts, sing-alongs, summer reading program, hands-on learning, musical performances, puppet shows and more! MCPL children's activities are intended for children (pre-K–grade 5) and tweens (grades 3–5). Teen programming (grades 6-12) is offered via our TeenZone / Teen Services program.
---